Latest Rants, Z-Blog [ My Journal],
Media Criticism [Mostly Milwaukee
Journal Sentinel] & Miscellany
Click entries for more details if available
ReMedial Writing:
Introduction to Media Criticism
Purpose
Examples
E-Mails of Relevance
Z-Blog [Journal Entries]:
My Latest Entry
[
or Frameless]
Pt. 3
My First Entry
[
or Frameless]
Archive

[Your Thoughts]
[Read Comments]

Z-GUIDE
Sat. Oct. 6, 2007

Time Thump: K'scope 40 Years Ago Today [No. 1-
Oct.6,1967]


[Below: Police Riot in Chicago. Issue #22, Sept. 13 - 26,
1968. A sample of the years of turmoil recorded in
Kaleidoscope for this continuing look back.]



Those just tuning in may notice an extensive gap in this
column, explained in a previous entry by emotional suffering
& a withdrawal to contemplative inaction caused by damage
inflicted on the author by the Blonde Beguiler. [Besides, I had
to clean my apartment.] Work did continue on fiction entries
-- with more to come -- & some observations below on
Milwaukee's connections to the Holocaust & a Blogging of the
Bible.
Well, time thumps on, as Milwaukee artist, poet &
exterminating angel Bob Watt wrote some 40 years ago in
Kaleidoscope's first issue, & as you no doubt have been
noticing for a while, the events of 40 years ago in general --
from San Francisco's Summer of Love & Milwaukee's
so-called race riots of 1967 in which the National Guard was
called out, presumably to at least the early 70s -- have either
ripened in the imagination or receded to a past of dimness &
distortion to a point where popular media sees a need to take
another look at the highlights of what happened. Whether on
TV or in the papers, it seems 40 years is a convenient point to
look back from.
So Z-Blog will do its part by re-examining every issue of
Kaleidoscope, one issue at a time, thru its demise in 1971, with
appropriate illustrations scanned & reproduced where possible
& text reprinted. I'll add original commentary -- since I was
there as its news editor & in other capacities -- & what I hope
will be appropriate insights on the era in general, as they
accrued over the intervening decades.
For aging hippies of the day, it should be one last,
nostalgic resurrection of a fading past, & for the younger
readers an instructive, maybe enjoyable -- if not indispensable
-- history.
In the beginning K'scope aspired to publish every two
weeks, so check in about that often to keep abreast -- or see
some (breasts, that is), since in the early hippie days women's
sensitivities to sexism were not what they became with later
issues, & Dirty Old Men sought out the paper Downtown,
helping sales, for its illustrations of naked chicks -- as
accepted without question in advertising as they were in
casual hippie gatherings of the day. [Comments are welcome,
of course, & will be considered for publication, if you wish.]
Eventually, peace & love faded as the Vietnam War
escalated & violence & repression took over in the
country -- a journey to be re-lived thru the pages of K'scope --
& factions vied for control of the paper. But even in the
beginning it wasn't only psychedelia, peace & poetry -- after
all, we were destined to land before the US Supreme Court
after conviction by Wisconsin for obscenity, tho our real
offenses were no doubt political. Time thump, time thump,
time thump. . . .

Issue #1 - Oct. 6, 1967
Cover by George Lottermoser
Montage of Joyce Lottermoser & Dan Ball (Velvet Whip)

The first issue is already quite well excerpted, since I wrote a
history of the paper for the
Bugle-American, reprinted on this
website. The cast of characters includes
some who will be around for years -- in the paper & on the scene -- & many who
are forgotten. Some will be brought back in this blog. The familiar names, at least
in some circles, are Editor John Kois
[not-so-manifest], Assistant Editor John
Sahli, Art Editor Gene Caldwell, News
Editor George Johnson, Poetry Editor
Bob Reitman, Chicago Editor Jim
Bowers, columnist Bob Watt [Zen bug chaser], reviewer Rich
Mangelsdorff [serious Pop Rocks]; & contributors Barbara &
Morgan Gibson, Dan Peterson, Richard Bussian, Rikki Huston
& Dan Ball. Just follow the links above or in the history for more
detail.
The important local news of the day as reflected in K'scope (&
there was sometimes no apparent connection) was the open
housing marches into the hostile white South Side led by Fr.
Groppi & the NAACP Youth Council as recounted by Barbara
Gibson.
They had been going on for a while & would continue, but her
detailed, emotive story is the heart of the first issue, which
otherwise relies heavily on reviews, columns & hippie
impressionism in general:

---
October 6-19, 1967
/

A DAY IN THE MARCH . . .
by Barbara Gibson
The paper says that today (September 9) the march will go
"deep into the South Side." That scares me because I've heard
what's happened there the past week. So of course I have to go.
I have marched with them one other time this week -- from
[Judge Christ] Seraphim's house on the East Side back to St.
Boniface, holding my little daughter's hand the whole time. . . .
[follow link to full text]

---
[Editor's note: These entries are way behind
schedule, but I'll try to do better]
Thu. July 20, 2006
1877 -- US: State militia fire on striking railroad
workers, Baltimore, Maryland; 50 die.
--The Daily Bleed




Milwaukee has a little-known double connection to
horror (besides Jeffrey Dahmer), not only to the Black
Holocaust but to the Holocaust of the Jews.
Holocaust, by its first definition online, is the general

Great destruction resulting in the extensive loss of
life, especially by fire.

But it is the more specialized meaning, usually
capitalized, that is generally reserved for the fate of
Jews in WW II:

Holocaust The genocide of European Jews and
others by the Nazis during World War II [same source]

that has led to the broader use of A massive slaughter
[same source] to apply to the fate of many blacks at the
hands of American lynch mobs during our worst period of
racism, as in the Black Holocaust. In any case, tho fire
was generally only involved sporadically (as a form of
torture or mutilation for blacks) or peripherally (that is,
cremation ovens for Jews), the widespread annihilation
based on race or ethnic characteristics -- and
homosexuality -- has become today's accepted use for the
term. [See the exhaustive history at Answers.com for
Nazi victims besides Jews, for example.] This led to the
use of the holocaust label in the life's work of
Milwaukee's James Cameron, founder of America's
Black Holocaust Museum, who died at 92 on Sunday,
June 11.
His achievements were deservedly recognized in his
obituary in the Journal Sentinel, where it is noted "the
only known survivor of a lynching" took up his mission
after "getting inspiration while visiting Yad Vashem,
Israel's Holocaust museum." An overlooked -- if minor
controversy -- is the conflation or usurpation of the term
Maafa for the fate of Africans and African-Americans, as
recounted at its site at Answers.com:

The Maafa translated into English means The
Enslavement of (Mama) Africa. It is derived from a
Kiswahili word meaning "disaster", or "terrible occurrence."
When capitalised it refers to the oppression of African
people murdered, raped and inhumanly enslaved by Arabs
and Europeans.

At any rate, The Maafa, not Black Holocaust, is the
term preferred by some. The situation is complicated by
those who insist that

Whilst the word 'holocaust' can be used to refer to
large scale deaths of humans by humans, if capitalised
it only refers to the Jewish/German persecutions. This
asserts that the Holocaust is the 'real' holocaust and
that the African holocaust is nothing but a poor
facsimile.

And the same goes for the Black Holocaust. At any rate,
though Cameron popularized his use of the term, discussions of
the Jewish Holocaust tend to be vague about its derivation, saying
only that it came into use in the '50s; some credit author Elie
Wiesel (Night). But Z-Blog has turned up the theory that former
Milwaukeean Fred Blair, owner of Mary's Book Shop
Downtown (named for his wife) & an old-time labor organizer,
Communist gadfly & nemesis of J. Edgar Hoover himself, was the
first to use the term. His death at 93 in March 2005 was noted in
part of a long Z-Blog entry [Tue. June 7, 2005] on 3 local guys
named Fred (really). In it, I quote an obscure observation [Fri. June
10, 2005] to the point that

In The Ashes of Six Million Jews, a book-length poem of
1946, for example, Fred Blair gives a close and graphic
description of a mass execution of Jews -- one of the first
literary representations in the language. [emphasis added]

It's all part of that controversy, again, involving author William
Styron & others, over how exclusive the modern use of holocaust
should be.
The 1946 verse, for those who don't want to follow the links
above, reads:

The executioners pour pitch
And oil into the groaning ditch,
And drive away the settling frost
With a fierce human holocaust.

For other readers, I suggest following this column's links to the
Three Freds & other topics for some more forgotten Milwaukee
radical history -- including that of Blair -- & the Journal
Sentinel's diffidence in what it later espoused as part of its path to
promoting justice.
Of course, since Cameron built on the earlier use of holocaust
in 1946, it can be claimed that Blair was responsible for the term
Black Holocaust as well as that for the Jewish experience. Quite
an achievement for someone labeled Wisconsin's top Communist
by J. Edgar Hoover and eventually awarded $48,000 for the FBI's
persecution.



New Feature: Surprise URL of the Week:
http://www.savetheinternet.com/

[Your Thoughts] [Read Comments]
z-guide

Sun. July 16, 2006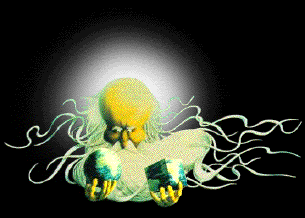 Sunday Sermon XIV: A Sunday Kind of Blog (By a Jew)
Is it true God loves a bald man? We've already
established he hates amputees. And since it seems
true that Leviticus is

the No. 1, all-time favorite, top-of-the-pops Bible verse
for social conservatives: Leviticus 18:22.
"Do not lie with a male as one lies with a woman;
it is an abhorrence."

Why is it not equally important (not just to
conservative Jews, if indeed it is) to conservatives that

As with food and skin, purity and impurity are
the chief Levitical concern. If a man ejaculates, he has
to bathe and remains impure for the rest of the day.
(Incidentally, this suggests that the Bible tolerates
masturbation, since the ejaculation described is one
that doesn't occur during intercourse. More evidence
that we misread the Onan story.) If a man has sex
with a woman, they both have to bathe and remain
impure for the rest of the day. [?]

And it is so seldom these days that the moralists express any concern about whether citizens are bathing appropriately following sex that one might almost think they are choosing their Bible verses selectively. Ignoring, for example, the purification ritual for a healed leper, which requires that the ex-leper shave off all his body hair . . . twice.

These & other issues (man, are there other issues) are raised by every entry in a gently hilarious new Blog which may have escaped the attention of even regular readers of the online mag Slate, by David Plotz. It is, as he asks, in Blogging the Bible, What happens when an ignoramus reads the Good Book?
There he discovers in Genesis, just for starters, that

The founding fathers of the 12 tribes of Israel lie,
breach a contract, encourage pagans to convert to
Judaism only in order to incapacitate them for
slaughter, murder some innocents and enslave
others, pillage and profiteer, and then justify it all with
an appeal to their sister's defiled honor. (Which,
incidentally, may not have been defiled at all. . . .

Which leads him to wonder

. . . what else had I forgotten or never learned?
I decided I would, for the first time as an adult,
read the Bible. And I would blog about it as I
went along. . . .

You can join the quest for elucidation of Biblical obscurities &
contradictions a short way into the project (considering the length
of the Bible, it's barely begun) & then backtrack to Genesis at the
current entry at Leviticus, or start at the first entry
(recommended). Not only will you learn that God approves of
male-pattern baldness, but why eating everything buggy except
locusts, crickets, and grasshoppers is wrong, wrong, wrong.
But it should be noted that this approach to Biblical
scholarship is not new; The Skeptic's Annotated Bible [SAB] has
been around for years & is a complete guide to the whole thing
with all the explication from a non-believer's point of view that
anyone could want -- especially a believer, who with any common
sense won't remain such for long. The site does indeed link to
Plotz's journal -- Plotz's advantage being that the journey is
broken into small doses & it is enjoyable visiting new ground
through an amateur's (if well-informed) rational eyes for the first
time. With The Skeptic's Bible, it is hard to know when to stop
reading for a while, tho it does offer indexes to topics & such, &
even includes a guide to Christian responses. Either one, then, is
time well-spent -- which, after all, is nothing to the eternity most
of us will spend in Hell if all the dicta we are exhorted to live up
to have any validity.



New Feature: Surprise URL of the Week:
http://jumpstartford.com/action/events_calendar/
freedomfromoilphotocontest/

[Your Thoughts] [Read Comments]


z-guide



Mon. July 3, 2006
1860 -- US: Charlotte Perkins Gilman lives (1860-1935),
Hartford Connecticut. American writer, early theorist of the
feminist movement. Founder /editor of Forerunner 1909-1916;
helped found Woman's Peace Party 1915.
Early American feminist novelist, author of Herland.
http://www.womenwriters.net/domesticgoddess/gilman1.html
http://www.kirjasto.sci.fi/gilman.htm
--The Daily Bleed

Patient readers will have noticed a slacking off of
entries to Z-Blog recently; this is because of emotional
damage inflicted by the otherwise nameless Blonde
Beguiler. Some may think it odd for someone of my
advanced years (documented elsewhere on my site) to be
so affected by a onetime 59-year-old romantic interest,
but I maintain it is not unusual for those however mature
not bogged down in longstanding relationships to be as
vulnerable as any sex-obsessed teenager. Probably
nursing homes see their share of tormented relationships
among the still-sentient & available.
Unexpected callous behavior notwithstanding, the
reader may notice I have still struggled on at least
somewhat, in part because the world of young adults of
the early '60s in Milwaukee & their intrigues & romantic
(that is, sex-obsessed) escapades is not far from the
travail that delayed this entry. So it is at least that I was
able to concentrate on a short story, the second
chronologically in a continuing series, leading to this
Fiction Alert:
New Short Story from

M'waukee Stories

[Index at Left]
Rat


Sex, Bugs & Bar-hopping to a Doo-Wop Beat


second in the series, at
http://www.zonyx.net/TEXTS/Rat.html

With this explanation out of the way, I can say entries to the
Blog will resume, including media criticism -- notably of the
Milwaukee Journal Sentinel's notoriously weak copy desk -- &
the ever-popular Sunday Sermons. Keep watching this space.



New Feature: Surprise URL of the Week:
http://www.commondreams.org/views06/0429-28.htm

[Your Thoughts] [Read Comments]


z-guide



Sun. April 16, 2006

Sunday Sermon XIII: Easter Sermon Searches for
Mandy . . . er, Maundy Thursday
Just-revealed scroll tests usual view of
Judas; Disciple's good-guy status ignites
controversy
BY LILLY ROCKWELL Cox News Service

WASHINGTON -- An ancient Egyptian manuscript
lost for 1,700 years was unveiled publicly for the first
time Thursday, challenging the long-held view that
Judas was a treacherous disciple who betrayed Jesus. . . .

That new item leads to this Web article:
The Death of Christ
The crucifixion, death and resurrection of Jesus Christ is
probably the single most important event in the Christian
religion. The crucifix itself, an instrument of torture and
death, is the most common symbol associated with
Christians. It is found in their churches, in their houses
and often hanging around their necks. The inconsistencies
and contradictions surrounding the Easter story are well
known (if you think there are no problems, see if you can
complete Dan Barker's Easter Challenge) and I'm not going
to cover that area. The problem I have is with the whole
point of the crucifixion (assuming, for the sake of argument,
that it actually happened). What was it all for? What good
did it do? . . .
[follow links above to continue]

Even as a child in Sunday School I began to
wonder -- as have many others at that age, I'm sure --
about the logic behind the crucifixion story, starting
with the betrayal by Judas. Wasn't that the way it was
supposed to play out? Why then the condemnation of
Judas? He was just fulfilling a necessary role, it
seemed, & of course God had known the future. I
wasn't sophisticated enough to question the need for
Judas to identify him for the Romans with a kiss, tho
our Bible story books carried pictures of his triumphant
entry on Palm Sunday at the beginning of Holy Week:

[From Wikipedia]
Palm Sunday is a moveable feast in the
church calendar observed by Catholic, Orthodox,
and Protestant Christians. It is the Sunday before
Easter. In the Western church it must always fall on
one of the 35 dates between March 15 and April 18.
The feast commemorates an event reported by all
four Canonical Gospels (:Mark 11:1-11, Matthew 21:1-11,
Luke 19:28-44, and John 12:12-19) - the Triumphal
Entry of Jesus into Jerusalem in the days before
his execution. . . .

Both John and the Synoptics state that Jesus then rode the colt
into Jerusalem, with the Synoptics adding that the disciples had
first put their cloaks on it, so as to make it more comfortable.
The Canonical Gospels then go on to describe how Jesus rode
into Jerusalem, and how the people there lay down their cloaks in
front of him, and also lay down small branches of trees. The
people are also described as singing part of Psalm 118 - ...Blessed
is he who comes in the name of Yahweh. Blessed is the coming
kingdom of our father, David. . . . (Psalms 118:25-26).

Where this entry is supposed to have taken place is unspecified;
some scholars argue that the Golden Gate is the likely location,
since that was where it was believed the Jewish messiah would
enter Jerusalem; other scholars think that an entrance to the south,
which had stairs leading directly to the Temple, would be more likely. . . .

Surely he was a very well-known figure, even
discounting the glow that always made him stand out in
any illustration.
On the other hand, even in my limited way, as a
10-year-old, say, I wondered how we knew a god -- or
Jesus -- really felt pain as we did. It might have been all
for show, but the temptation to turn it off would seem to
be overwhelming, assuming a supernatural being felt as
we did in the first place. And wouldn't a god know it
was only temporary, to be followed by eternity in heaven
-- a small price to pay? And didn't the whole concept of
the Son suffering at the Father's behest negate the idea
of One God in the first place?
Of course, I never got valid answers to these
questions, & realized it was for a simple reason -- uncomfortable as it made adults & the Rev. Reed of
St. John's Methodist Church, they weren't holding back
some sophisticated line of reasoning. They didn't know,
& ignored that which was awkward for them.
As an adult, I don't usually trouble believers with
uncomfortable questions about their faith, but I
sometimes like to establish that they don't really know
much about what it is they do profess to believe. So,
for example, around Easter time I like to ask them what
in blazes is Maundy Thursday all about. Just what
does it mean, other than designating the day before Good
Friday? So far, no one has answered correctly, even if
they have a general idea about the Last Supper taking
place then. [Hint: It is related to mandate.]
More info:
Maundy Thursday at
http://www.thisischurch.com/christianinfo/maundythursday.htm



New Feature: Surprise URL of the Week:
http://decider.cf.huffingtonpost.com/

[Your Thoughts] [Read Comments]


z-guide



Sun. April 2, 2006
1966 -- Vietnam: 100,000 Vietnamese ingrates demonstrate
in Da Nang against US & South Vietnamese governments.
Civil unrest spreads to Hue & Saigon. Apparently they did
not understand America was bringing them Civilization (ala
Ayn Rand) & Democracy (ala CIA, FBI, NSA, etc) &
Freedom (largest prison population in the world, death
penalty, crime rate, etc).
--The Daily Bleed

Sunday Sermon XII: Eukey's Search for Melrose Baggy

I knew of long-time East Sider & friend Jim Eukey's
illness with pancreatic
cancer, for a few months
before his death on March 19.
But he had never mentioned
he was even sick when I told
him by phone what I had
learned for my own purposes
about applying for Medicaid -- which even at 63 he was eligible for since he was
already collecting SSI for a long-standing disability, tho
no one had ever explained that to him. I suggested that if
he was fed up with trying to get thru by phone to a
caseworker -- as he was -- he should pack a lunch &
take a book & camp out at the welfare office on Vliet
St., a tactic that had worked for me. Typically
impatient -- apparently with good reason -- he cast
about for another way & later told me he had gotten our
county supervisor, Gerry Broderick, to help.
So I learned of his illness indirectly, thru some
forwarded e-mail concerning the late Jim Barker's
memorial at Von Trier's, where Eukey was
photographed. As I learned the following Tuesday from
his Journal Sentinel death notice, he died Sunday the
19th while I was drinking at the traditional St. Patrick's
Day celebration at Regano's -- an occasion he would
have approved of, since he often enjoyed a Pilsner
Urquel or several at home, tho I saw him at a bar only
once in the 25 or so years I knew him. He could have,
of course, filled a bar with the smoke from his own
cigarettes alone -- which made visiting his flat a
problem for me -- but he nonetheless abstained at the
smoke-free Beans & Barley on North Ave., where we
often ran into each other.
I knew pancreatic cancer was vicious & fast -- it
killed my mother & for a while it seemed celebrities all
over the world from Mickey Mantle to Henry Mancini
to Milwaukee Rep actor & OBG's regular Dewey
McDonald were dying because of it. Or maybe I just
had a special sensitivity to it then. But I didn't know
how far along he was or what I should do, when Tony
Ciano, our former landlord -- Jim had lived across the
hall from me for many years & was still there with all
his record albums until he went into the hospice,
presumably using Medicaid -- called to say that my
name had recently come up in their conversation, but
that he had taken a very bad turn.
So I mulled that over in my cowardly way -- Did he
want to see anybody now? What could I say? Why
hadn't he called me earlier? Was I relieved he had
spared me? Was it too late too be meaningful, or maybe
too embarrassing for him -- & was still making excuses
for myself for not checking it out when he died.
I was gratified to see his life merited attention in
the Shepherd Express of March 30, where his talents as
photographer, composer, musician & writer of poetry &
screenplays [a link that may be taken down like his
Web site] -- unfortunately, unproduced & mostly
unpublished -- were noted. One piece that did make it
into print was his exploration of the so-called Wisconsin
Triangle:

On August 27, 1990 , the date that Stevie Ray Vaughan and
others died in a helicopter crash near Lake Geneva after a
concert at Alpine Valley, I began to speculate about the
coincidences associated with that tragic event and two other
related plane crash deaths of pop music stars, all at the peaks
of their careers and all within 225 miles of each other. . . .

Buddy Holly's death at Clear Lake, Iowa in 1959 and Otis
Redding's death in Madison, Wisconsin in 1967. Now these
three events did not occur closely in time, but they are certainly
associated in many other ways. As I investigated these matters
I found quite a few "coincidences" relating to dates, places, and
early American Indian effigy burial mounds.

The article was published in the Metro Milwaukee Weekly,
which later merged with the Shepherd Express, & is found on
the Internet on Lisa Baugh's Home Page! [as Wisconsin
Death Trip, tho it has nothing to do with Michael Lesy's book.]
But one of Jim's major activities was the used vinyl business,
& he had been helpful by finding me a copy of the early
Milwaukee psychedelic band Shag's Stop & Listen / Melissa
45, & a Tex Ritter album with Rye Whiskey & the Boll Weevil
song -- an artifact from my childhood. Of course, I linked to his
record business from my own site & offered a sample of his
latest Swing State 2004 CD (as Shawn O. Eukey) nicely
ridiculing the Bush administration & taking on Condoleezza
Rice with a parody, Condo-Leasa, of Mona Lisa that morphs
lovely work of art into ugly jerk-off wart .
Previously, he had put out his satiric take on cell phones in a

parody of Jailhouse Rock.
Others have written of his caustic sense of humor & quirky
enthusiasms, such as the correct name for our solar system. One
of his latest projects was researching his past; in finding out about
his birth-mother he said he had only recently turned up the fact
that his biological father had gone down with the torpedoed US
Army troopship Dorchester in 1943, with 900 men aboard --
known as the ship of the Immortal Four Chaplains, who were

among the first on deck, calming the men and handing out
life jackets. When they ran out, they took off their own and
placed them on waiting soldiers without regard to faith or
race. Approximately 18 minutes from the explosion, the ship
went down. They were the last to be seen by witnesses; they
were standing arm-in-arm. . . .

Unfortunately, tho he was only looking for his roots, for the
most part his father's family wanted nothing to do with him.
But Jim took things in stride, & at one of our last talks at the
B & B counter I gave him another quest. I had long been
puzzling over a singer from my school days, whose name I
couldn't forget tho the tune or tunes he recorded didn't come to
mind until I looked him up. Even then, I couldn't hear them in my
mind, & found no sound files to play or even a biography. Only a
name: Melrose Baggy. Many people I mention him to think I am
making it up, but he gained fame, such as it was, right after
Conway Twitty [Harold Lloyd Jenkins] made his first big rock
record, before turning country. Probably not coincidentally,
Ferlin Husky was also a star then, & as Rick Ollman pointed
out at the lunch counter, Elvis Presley was huge at the time. It
appears Baggy's only 45s were Beauty & Sighin', tho he
co-wrote at least one song as David R. Sanderson. Beauty is
found on several compilation records of the era -- 1959 -- such
as Teen-Age Dreams Vol. I, but there are no DLs on the Web
that I could find. He promised to keep an eye open, but now I'm
stuck without Jim on the job, & unless someone sends me a
sound file, I'll never know the true quality of Baggy's
achievement. [So consider this an urgent appeal.]
His downstairs neighbor, Ralph Larsen, tells me the family is
donating Jim's records to the Milwaukee School of
Engineering's free-form FM station, WMSE, a fitting legacy.
He lived alone except for his cat, Mademoiselle, & I trust she'll
find a new home also, in which to ponder his absence in her
catlike way. But a Sunday Sermon should have a point -- this
one, though, finds me still at the juncture where I am pondering
Jim's absence & have not gotten beyond the point where I am
often reminded how recently I saw him & now it is over, just like
that. Remembering the bottles of beer he could find for me late
at night when I knocked on his door in desperation, the giant aloe
plants on his upstairs porch where I could look out & see
amongst them from my own bedroom window the homegrown
Milwaukee weed he cultivated & shared. What good, I wonder,
does a tribute do any of us once we're gone, & would he be glad
I've tried to do one for him? And, of course, it it just my own
sense of vulnerability I am trying to fight off ? But for what it's
worth, I'm sorry he's gone. As a man who especially appreciated
recordings, including those of long-dead musicians, he might
have found it satisfying to contemplate -- if he did -- that
millions of people could access via the recently constructed, in human terms, Internet a little of himself, a lot longer than most humans stayed in memory in the past. Including Melrose Baggy, who may not be even be dead yet, but who is gone & forgotten as completely as if he were.

New Feature: Surprise URL of the Week:
ITMFA: http://www.itmfa.com/
Tue. March 28, 2006
1909 -- Novelist Nelson Algren (A Walk on the Wild Side,
The Man With the Golden Arm) lives. (1909-1981), Detroit,
Michigan. Grew up in Chicago in a poor Polish neighborhood,
served a four-month jail term for stealing a typewriter. Algren
joined John Reed Club & was editor of the New Anvil, an
experimental magazine. Heavy drinker & gambler, involved
with Simone de Beauvoir.
--The Daily Bleed

With the Iraqi insurgency going full-bore & the US
presence there becoming more hapless than ever, it is
time to remind ourselves of the rightness of the US
mission to "support democracy in the country that
needs it most -- the USA."
That is from a site recommended by Z-Blog reader
& former East Sider & poet / musician Rick Ollman
[a friend of the old Kaleidoscope] who sends this
self-explanatory message & link.

Hello Friends and Relatives,
My new web site -- I'm the web
developer / webmaster -- launched today and I think
some of you will love me and some will hate me for
it but here it is. I still love y'all. Sorry for not
personalizing this message:
http://www.iefd.org/
The content is mostly written by, or in the case
of the Articles, chosen by, my cousin Bertell Ollman
[the creator of Class Struggle, the world's first Marxist
board game].
Let me thank you in advance if you forward it to
your own friends and relatives. You don't have to
send it back to me (since I'm one of your friends or
relatives, I'm presuming) but I'll be happy to hear
what you think of it. I'll also be happy to "personalize"
my response!
Rick

Readers of this Blog may know that Rick has an entry on
my Comments page & that his cousin Bertell -- a well-known
Marxist scholar -- has his own site linked to by my Favorite
Links here. While serious, it certainly has its lighter aspects as
compared to the International Endowment for Democracy (IED)
site, which is nothing if not in deadly earnest, exhaustive &
loaded with big name advisors of the progressive / radical camp,
including "HOWARD ZINN (America's leading radical historian),
MUMIA ABU-JAMAL (America's most famous political
prisoner) . . . GORE VIDAL [&]

Ramsey Clark

. . . ."
Still, even if one more advocacy site is not what you've been
yearning for, it's worth checking out for its novel approach in
using foreign monies (& our own) for the "many groups in the
United States that are trying to defend what remains of our
rapidly shrinking democracy and/or build a better, more
egalitarian one," & to monitor domestic elections as well (sort
of like the US in Haiti & Venezuela, only without the
subversive motives).
[Your Thoughts] [Read Comments]


z-guide
Sun. March 12, 2006
1956 -- US: Dark Ages? Nearly a hundred Congressional
Representatives & Senators sign the "Southern Manifesto,"
vowing to fight the Supreme Court school desegregation
decision.
--The Daily Bleed

Sunday Sermon XI: Wearin' o' the Purple
The coming weekend brings a rare opportunity to
combine these intermittent sermons with the regular,
more secular commentary, & write about strong drink,
good food & camaraderie honoring, as in every March,
a popular, ethnic saint. I'm referring, of course, to
St. Urho.
The Finnish icon, whose day is celebrated every
March 16 -- Friday, this year -- has a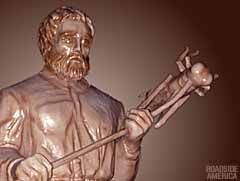 strong &
growing following,
in Michigan's UP &
especially in Minnesota,
where the wearing of
the purple is said to
have begun. Of course,
there are those who
don't doubt the legend
originated in Finland,
where the saint drove the grasshoppers out of the
vineyards & saved the grapes & the wine industry.
Grapes in Finland? you may ask.
Such quibbles don't deter the celebrants, as a
growing number of Web sites attests:
St. Urho History
The Legend
St. Patrick Compared
Of course, St. Patrick wasn't Irish, nor a monk, &
the glaciers kept the snakes out of Ireland. Click for
more of the straightforward atheist take on St. Patrick.
[Your Thoughts] [Read Comments]


z-guide
[Your Thoughts]
[Read Comments]


BACK


Previous
[Archive]